Come in for your inspiration
For the best customers, the most beautiful stories
Hi, do you already know our ingenious happiness makers?

But we're not talking about boring pens or notepads - no, we're talking about teddy bears, squeaky ducks and anti-stress figures like Mr Bert.
Who can resist these cute comrades? Even the biggest Grinch will like our cute promotional items.

Whether you're in trade, craft or public institutions, you'll delight your customers with our promotional items.

And the best thing about it? The promotional products from mbw are also very successful!
Don't you think so? Then let the following little anecdotes convince you.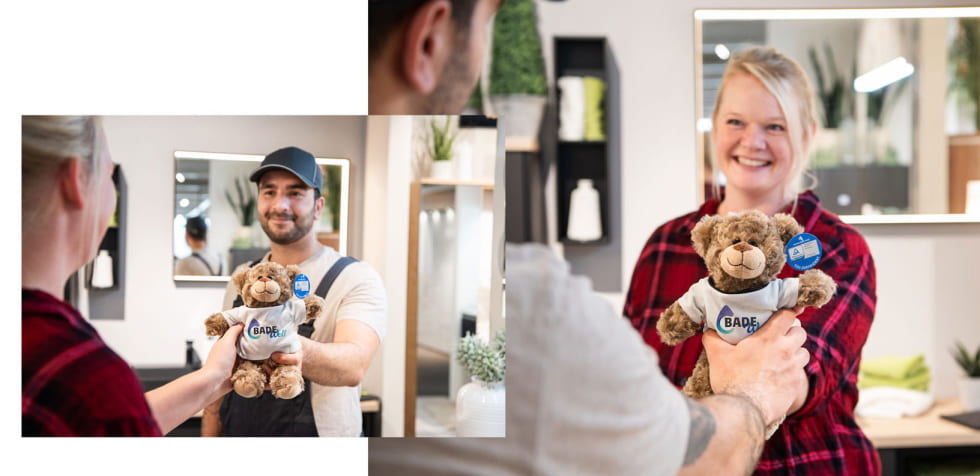 Why should you still rely on haptic promotional gifts in times of tight budgets and ever-growing digitalisation?
Because they work!

Statistics and surveys from Germany show that 90% of the surveyed companies have already used promotional products and that haptic promotional products are appreciated as giveaways

Values can still be conveyed most strongly through personal gestures and small gifts. Haptics play a major role in this. Things we touch, we understand. Our likeable promotional items create a physical connection between the customer and your brand or your company that cannot be achieved through digital or print advertising. Touch facilitates the storage of information and creates closeness in the process. Ideal conditions for a successful positioning of your company. The likeable products from mbw® make it into the hearts of the recipients.

This gives them a lasting presence in the customer's life, which leads to a greater reach and a positive attitude towards the brand.

Studies show that 88% of customers who have received a promotional gift perceive the company more positively and 85% have already contacted a company once because of a haptic promotional item.

Expand your product range with original gift items on trendy themes and make your customers, employees or partners' eyes sparkle.

Get in touch with us, we will help you!

Benefit from our Europe-wide dealer network for larger and individualised quantities, which enables us to support your projects locally.
The strengths of haptic promotional products
It was Frieda's last cure day in Bad Neustadt. The sun was shining and the atmosphere was cheerful. As a little surprise, not only Frieda, but every patient received a cute teddy bear with the name and logo of the clinic on the T-shirt as a farewell gift. A nice surprise with a lot of advertising power.

A cuddly toy that will accompany Frieda on her further journey and that, thanks to the lettering, should always remind you of the wonderful time at the clinic.

Even other institutions such as hospitals or rehabilitation centres can use small cuddly toys to draw attention to themselves in the long term.
The surprise was great when Lisa entered the garden on a beautiful summer day.

Her eyes caught sight of a huge pool that mum and dad had bought especially for her. She quickly slipped into her swimming costume and dived into the cold water. To Lisa's great delight, she was not alone in the pool.

A gigantic rubber duck with the pool manufacturer's logo was now her splash partner. A great idea, because this way not only Lisa, but also her bathing friends will keep the Koohei company in positive memory. And in winter, Lisa thinks, the duck will spend the night in her room.

The manufacturer Koohei has perfectly demonstrated how important well-used advertising media are. The huge rubber duck is a real magnet for children and therefore an almost unbeatable argument for parents to buy this pool.
Little Hanna was more excited than ever. Today was her big day, when she had her cycling test. She had been practising for weeks and felt confident, but still her tummy was tingling. After 45 minutes, it was finally done.

Full of pride, not only Hanna but also her classmates were presented with a certificate by Commissioner Meier as well as two small reflectors with the name of the police station on the advertising flag.

This example shows how valuable a well-used promotional gift can be. Hanna and her classmates are easily seen by everyone in the dark and the police in Neustadt draw positive attention to themselves. The small gift can also be used by fire brigades, the THW or paramedics.
With trowel, hammer and co.
As an employed heating engineer at TopBau, Lukas knows how important it is to be close to his customers. Whether on weekdays or weekends, Lukas is almost always at work. To ensure that his clients always remember him well, Lukas hands out small bath ducks with his company's logo.

A real eye-catcher in the bathroom, the workshop or the living room. Each little duck is different. Sometimes with a screwdriver, sometimes with a drill or a trowel in its little swimming arms.

Lukas says: "Some of my customers call me without having a problem, just to get their little swimming ducks. The little ducks have already turned out to be real collectors' items."

Lukas knows how catchy advertising works and will surely surprise many more new customers with his great ducks.

A real plus for the TopBau company. The small yellow promotional gifts are thus seen by many people and positively associated with the company. This ensures a good image and helps the company to become better known.
Reiner Thordsen has run a large grocery store in Wanderup for years and knows exactly what his customers want. "I haven't had a funny Give-away item at the meat counter or in the checkout area. That's how he came up with the idea of ​​the funny BBQ ducks.

"Roofers, tax consultants, lawyers and many other groups shop in our shop. But most of them have one thing in common, they like to grill.

mbw supplied the small standee for the ducks and for me as a businessman I was able to calculate a good margin. The little swimming geniuses have already developed into real collector's items. I will certainly reorder."
The Family Bank has been relying on mbw's funny promotional items for years. Whether at trade fairs as a take-away item for prospective customers, as a recruitment gift for new employees or to conclude a loan agreement.

With the unique brand or the name of the bank, the funny attentions are always a real eye-catcher and a good customer magnet.

"Our clients are just always happy about the great gift," says Sylvia Bahnsen from the Family Bank. "Many new clients have already been acquired who have simply placed their Anti-stress-figures at home in a promotional way."

Small gifts don't hurt, quite the opposite. The Family Bank is the perfect example how effective advertising works.

Teddy bears or small anti-stress gifts certainly get a prominent place in most households and are thus seen by many people and positively associated with the bank.