Bath ducks with logo - a promotional gift with long-term effect
The more you stand out from the competition with your advertising, the higher your chances of success. This is exactly why investing in a bath duck with logo is worthwhile. They are a real classic in people's everyday lives - but branded with your logo, the cult hit becomes a unique advertising medium with an impressive impact. Just think about it, what is the purpose of an advertising medium?

It should have added value, be useful, appealing and bring a little smile to the face of the recipient. Can you achieve this with a lighter or a biro? Sure, these products have added value, are useful and appealing, but they certainly won't put a permanent smile on the recipient's face. Our bath duck with logo is a completely different story. They will find a prominent place in the bathroom, office, children's room or workshop. Not only the recipient, but also visitors or customers will be constantly reminded of your company and a little smile will flit across everyone's face. That's exactly what an advertising medium should trigger - emotions.
Bath ducks as a promotional item - A fancy gift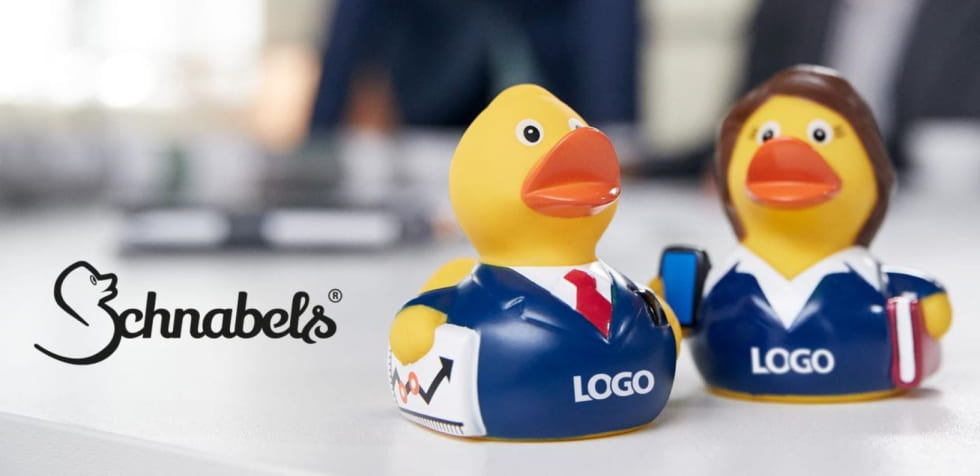 The bath duck with logo is a promotional gift with a long tradition. However, we cannot say exactly when the squeaky yellow platypus was invented. The Sesame Street series, with Ernie in the lead, made the bath duck popular in Germany in the 1970s. But the fact that there is now also a bath duck with a logo was not foreseeable at the time.

Consciously or unconsciously, you will be noticed and your company will be positively anchored in people's minds. A bath duck with logo is a real eye-catcher and is therefore suitable as an advertising medium for many companies in different sectors.

A perfect addition for manufacturers of wellness or care products. A high-quality lotion or a fragrant bath foam are the ideal main products for our little squeaking duck. Wash or shower products for children are also becoming increasingly popular. A bath duck with your logo is sure to be a magnet for the little ones. The ducky will be shown to friends and relatives and thanks to your brand you will be remembered continuously and thus also generate new sales.

After a relaxing holiday in a hotel with sauna, swimming pool and massage, bath ducks as a promotional gift are the perfect souvenir for friends or acquaintances. Not only will the yellow platypus be associated with a wonderful holiday memory, but the recipient will also have a positive association with the hotel. Have your squeaker duck printed individually with your logo or design.

The "sweet yellow" will certainly pass through many hands. This way, your company will be remembered for a long time. This is not only very effective, but also relatively inexpensive in contrast to conventional print or TV advertising.
A real eye-catcher for many areas
However, your bath duck with logo can also be used prominently directly at the point of sale. In the checkout or counter area, it operate as an ideal takeaway product. In the area of cross-selling, the bath ducks are also welcome guests as promotional items. Combined with your products, they represent a real additional benefit for buyers. You can also offer the bath duck with logo on special occasions such as anniversaries, weddings or birthdays. Together with a beautiful bouquet of flowers or a good bottle of wine, the rubber ducks serve as a very special promotional item. Because remember: there is always something to celebrate.

While classic newsletter advertisements, TV commercials or pop-ups on websites are usually perceived as very annoying, a bath duck with logo or a bath duck as a promotional item for children and adults can charm their recipients. On a place of honour at the bathtub, the squeaking duck with 4c print (print in colour space CMYK) prominently presents your company and remains positively in memory.

With your personal message, the friendly bath animals playfully become your very own advertising ambassador. Have a look at our extensive online shop for squeaky ducks.

You will find the right rubber duck with logo for almost any theme or profession.
A goose with a tennis racket is a perfect advertising medium to acquire new members for your sports club. The bath duck dentist is ideal to take away some of the fear patients have of treatment.

A bath duck with your logo makes it easy for your customers to like you. If you still have questions about squeaky duck finishing options, we will be happy to advise you. Simply design your bath duck with logo yourself and achieve the maximum advertising effect.
Bath ducks as promotional gift - always a good idea
There are no limits to your design possibilities. With us you will find rubber ducks from many and the following Branches:


A bath duck with a logo that matches the design of the city is the ideal
souvenir
from your holiday, either for yourself or for relatives and friends. We are thinking of tourist associations or
tourist information
offices, for example, but supermarkets or small kiosks can also offer the cute bath ducks as promotional items.
The squeaky duck
Cologne
with the cathedral in its wings or
Flensburg
in sailor's clothing and a "bottle" of beer. So as you can see, you can have your bath duck with logo customised to your city, village or municipality.
Some bath ducks for seminars, training courses or sporting successes are so popular that they are proudly presented as
trophies
in the bathroom at home, on the hat rack in the car or on the sideboard. Since the rubber duck as a promotional item can be logoed and
customised
to your company's corporate design, it is immediately associated with your company. So individually designed rubber ducks for company parties and
anniversaries
can trigger a veritable collecting fever.
But also as a lone duck, the bath duck with logo for craftsmen looks very good in the workshop and sets a cheerful accent at the workplace. Of course, we also offer
custom-made
squeaky ducks in the colours of your choice. Let us inspire you and choose the right bath duck for you as a promotional item. We will be happy to help you with the selection. The rubber duck with logo is a great giveaway where the advertising message is not perceived directly but still attracts attention.
Customised bath ducks with logo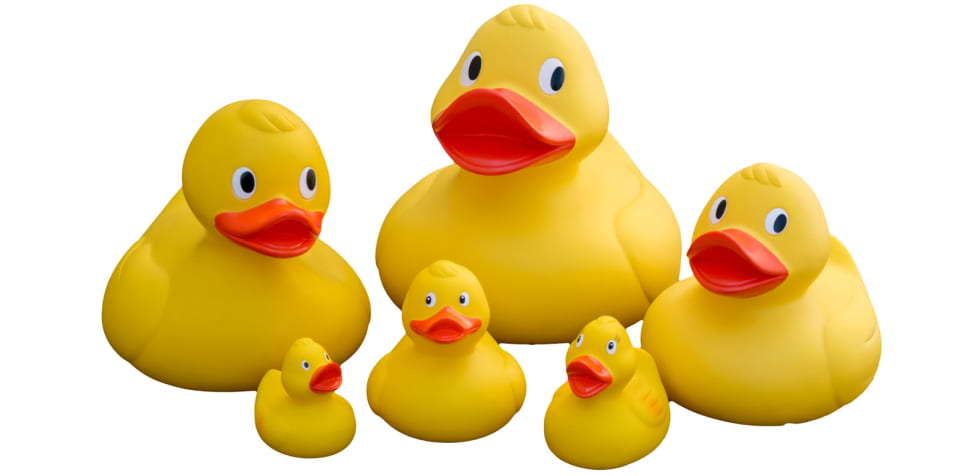 The bath duck with logo is of course REACH-compliant. In order to be able to continuously monitor the production process and the finished bath ducks as promotional items, we have our own in-house "certified specialist for toy safety" who permanently scrutinises our high-quality rubber ducks as brand ambassadors.

Our sustainable commitment also includes the fact that the Far East production of squeaky ducks is BSCI-certified. This includes, for example, fair remuneration, no child labour and sustainable trade. So you can also be sure that your bath duck with logo has always been produced fairly. In addition, we regularly check the working conditions on site by our own quality management staff. But that's not all: we have our squeaky ducks made of tested plastic independently inspected externally by TÜV, Qima and Labtech. This means we guarantee tested promotional items and you can advertise with a good feeling and certified squeaky duck from mbw®.

An individually designed bath duck with logo is a real eye-catcher. Who hasn't seen them before? Whether for the hat rack in the car or as an appealing promotional gift for craftsmen. A printed bath duck with a logo or a special look is becoming increasingly popular. There are almost no limits to the design. Promotional ducks with 4C printing can be designed with any outfits according to your own specifications. Our bath ducks with logo are offered with pad printing and 4-colour stickers. The logo can be applied in different places. However, the respective advertising space depends on the model. For more information, simply visit our product pages.

Our possibilities are not limited to bath ducks with print. The special know-how of mbw® also includes the special production of squeaking ducks. We also produce individually shaped squeaky ducks for customer appointments according to digital templates. There are almost no limits to the possibilities. Further information on special models.
How can the bath ducks be printed?
The door is wide open for your very own individual print, for your promotional bath ducks.

Discover the 3 best ways to customise your bath duck:

Pad printing:
With pad printing, neutral silicone stamps are transferred from the printing form to the substrate. The transfer of the material is created by pressing on.

Laser printing:
A strong laser beam creates a high-quality engraving. Visually and haptically, the engraving is hardly noticeable. Laser engravings are single-coloured and numbering is also possible.

Stickers:
The stickers are produced in 4c digital printing and then applied to the product. The size of the stickers depends on the model, but can of course be customised.


Where can your duck be printed?

The bath duck with logo can be printed on the front, the rump and, if necessary, on the sticker area. The little winged animals are of course available in the colour of your choice. Only yellow ducks would be boring, wouldn't it?


Requirements for the print data:
Vector data or pixel graphics in CMYK colour space
No special colours possible
Consider individual print templates
The right duck for every promotion
We have a wide range of bath ducks with logos, so we can meet almost any promotional need. Should it be particularly small models that look cool as a key chain, for example, or larger customised designs so that the bath duck catches the eye immediately as a promotional item? No problem!

We also offer different colours. So instead of yellow, you can also get the duck in your company colours. We also offer you plenty of branding options. You don't have to limit yourself to the classic rubber duck with logo. The squeaking ducks can be supplemented with accessories or adapted in colour and shape to your company identity and other marketing material.

After all, printed bath ducks always catch the eye as an unforgettable unique item. Ideally, the printed bath duck not only looks funny, but also builds a bridge to your products/services. It doesn't get any better than that, does it? Either way, bath ducks with logo make customers, business partners, employees or trade fair visitors smile.
Variety for every occasion
The bath duck with logo is selling like hot cakes in our shop. But of course we're not resting on our laurels. You will also come across the frog and cow bath animal in our extensive range. Do you have any other promotional ideas for the bathroom? We would be happy to develop your individual bath duck in the colour of your company. Let us advise you and develop a unique advertisement for cosmetic products and hygiene articles. A bath duck with logo in individual form distinguishes you from the competition. But even bath ducks in special colours are no problem for our professional production team.

We will bring your advertising idea to the finished squeaky duck special model in just a few steps. Perhaps you already have a specific mascot in mind as a bath animal? Thanks to our professional production methods, customised bath animals with print are completely free in their design. The customisable, colourful bath duck with logo can be designed for different purposes. Thereby our squeaking ducks for events are available in different sizes from mini to XXL. A small on-pack bath duck as a key ring for mailings, for example, is ideal as a likeable advertising booster.

Our rubber ducks for special occasions are perfect to stay in the customer's positive memory. Do you like it sporty? Our ducks offer the perfect setting for that too: You can organise an unforgettable event with rubber ducks for sports and leisure with a duck race. Each participant receives a duck with a logo, which then swims in a race with the others. The winner receives a particularly fancy one at the end and this personalised rubber duck will be associated with positive memories and a unique experience.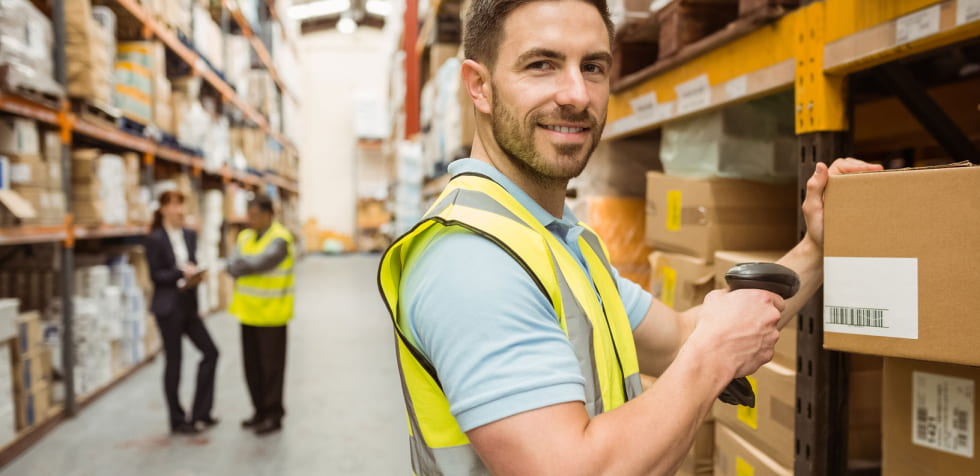 Fast delivery due to high stock availability

Over 250 models permanently in stock. Our bath duck with logo and fast delivery is quickly at your doorstep thanks to our warehousing in Germany. In our assortment, the rubber duck shop, you will find a number of models that we have in stock for squeaky duck printing. After we have customised your bath ducks with your company logo, they can go on their journey immediately. But we can also deliver cheap imported squeaky ducks from the Far East quickly if you want to design a rubber duck yourself. Thanks to our decades of experience, we can also offer quick customisation of bath ducks, where we take care of both transport and customs clearance for you. The inexpensive squeaky ducks with print are therefore delivered to you promptly and reliably.