Your perfect promotional items for dogs and cats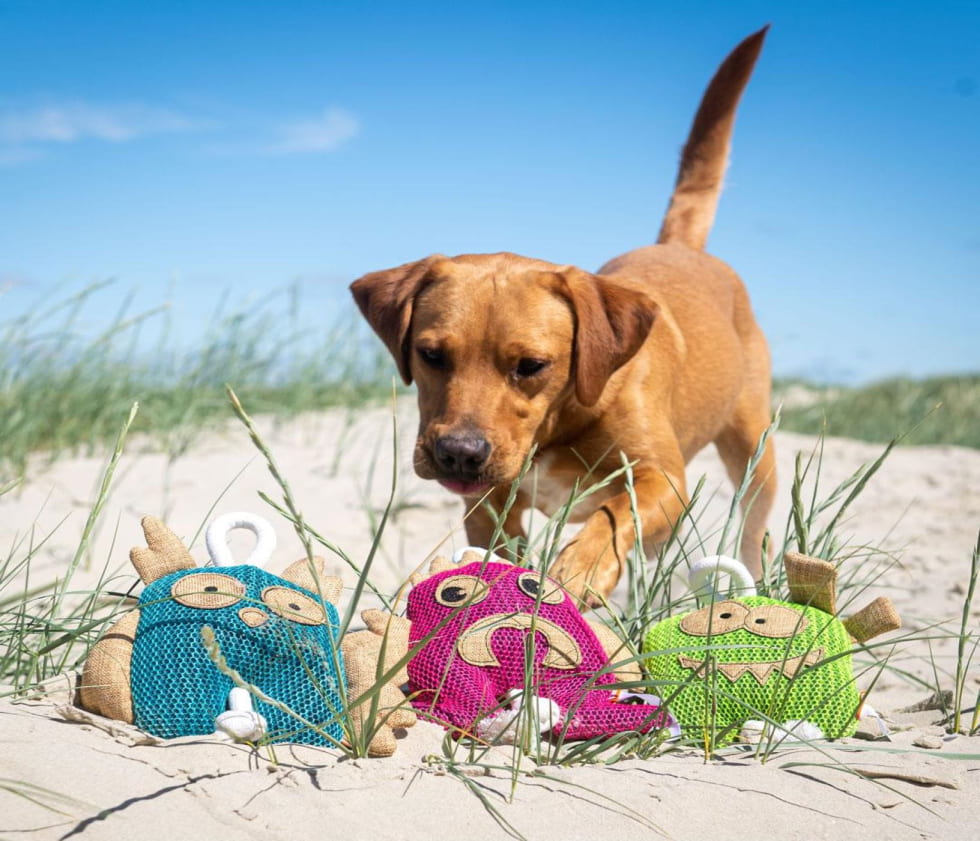 The dog has always been considered man's best friend. Not only is he a loyal companion in fine weather, but he is always a good partner even on the bleakest days of life. Our great promotional items for dog owners are the ideal dog and pet promotional item and can be custom printed with your logo, company branding or a small message.

To ensure that our four-legged friend is always well and that we make full use of our dog's potential, you can get the right tools from us. The robust toys are ideal for the home, the extended walk in the forest or on the lush green meadow. The good thing about it: many items can swim or are waterproof. Perfect for water-affine fur noses who simply love to bathe in the cold wet. A real treat, especially in summer.

For you as a business, this offers a lot of advantages to increase your visibility in the market. Give it away to dog schools, insurance companies or distribute it at pet or dog fairs. Your promotional dog and pet items are very sturdy and durable, so your company name will be positively remembered by your customers. The perfect promotional gifts for dog owners.

You have to remember that dogs live in every fourth household in Germany and they also want to be looked after and entertained. For many dog owners, the focus is primarily on the right nutrition for their four-legged friend. That's absolutely right and proper, because only healthy dogs have the urge to exercise.

Many owners underestimate this issue and often confuse their dog with a cat. Cats are stubborn creatures. They love to play, but don't necessarily need to be entertained by humans with play fun. Dogs, on the other hand, do. Depending on the breed, our four-legged friends sleep up to 18 hours a day, but of course not all at once.

Dogs love exercise and games. Our ingenious promotional items for dogs and pets ensure that Bello can play and hunt without stress. These promotional gifts will delight any dog owner. There are days when the dog enjoys less exercise, that's for sure. The master/mistress has to work late or the weather simply doesn't permit a walk. Of course, it helps if the dog can be kept busy within its own four walls.


Of course also for your cat

Of course, you will also find suitable toys for your cat in our extensive portfolio.
With fishing function, integrated bell or simply exciting crackling. Your cat will love its new cat toy.

Did you know? Cats sleep 14-16 hours a day? So in between there is still enough time to play or romp with your master or mistress.

Of course, the cat toys can also be customised according to your wishes. You can leave your message on the small advertising flag with a slogan or logo. This is ideal for feed houses, animal shelters, insurance companies, pet supply shops or of course as an on-pack to your existing range.

The cat toy can also be washed at 30 degrees on the gentle cycle.
You probably asked yourself the same question before getting your cat, didn't you? Cats are very freedom-loving animals and really enjoy hunting or romping in the great outdoors.

But not for all owners it is possible to let your cat run outside. may you live in a big city on a busy street or have a cat that is not very keen on being outside, either because of its nature or its age.

But cats love variety and activity, so our cat toys with your advertising on them come at just the right time.


Which cat toys can you find here?


Not bad, is it? There really is something for everyone here.
Always the right toy
You will find a wide variety of products in our dog and pet promotional products. How about a spooky ghost, cute rabbits or tasty bones, for example? Our toys for dogs comply with DIN standard EN 71 and are safe for the four-legged friends' health. Whether it's a clumsy little puppy or a grown-up giant schnauzer, it doesn't matter at all. Our promotional items for dogs and pets are perfect for all ages and a great giveaway for dog owners.

Did you know that the top 10 most popular dog breeds in Germany include the Labrador, Golden Retriever and the Jack Russell Terrier? These dog breeds have a very high urge to exercise and enjoy a long walk or romping around in the open field. What could be better than a promotional item for dogs and pets? With your very own individual imprint or corporate branding, you can ensure that your promotional gifts for dog owners are well presented.

For example, think of veterinarians, who can ideally use the promotional item for dogs and pets to reward the four-legged friend after medical treatment. Advertising that has a lasting effect and not only lets Hasso keep good memories of the visit to the vet, but also his owner and perhaps friends, acquaintances and relatives who are still looking for a good and attentive vet. Give pleasure and fun with the promotional items for dogs.
Game ideas for dogs
The promotional items for dogs and pets are true allrounders. However, we don't want to withhold suitable game ideas for your dogs. If it's hailing, snowing or raining, that's no problem at all. Simply wrap our promotional items for dogs well, hide them and let the dog look for them, because dogs love unwrapping gifts too.

The four-legged friends learn commands such as sit, down and search in a playful way. But chewing, tearing and pulling games are also something very special for the little rascals. It trains the biting apparatus and encourages the play and hunting instincts. Promotional items for dogs and pets from mbw® make it possible.

It can be hidden in places that have to be climbed or are not so accessible for the little rascal. Playing with the dog really exhausts him and stimulates his mind. Dog schools really appreciate our printable promotional items for dogs and pets. Whether as a welcome gift for newcomers or for a passed exam; the dog will not want to take the little surprise out of his mouth. The recipients are often asked where they got the funny toy for dogs. There is no longer any need to think about it, the dog school is on the advertising flag and is thus always in the eye or in the perception, even if it is only the unconscious one. The perfect promotional items for dogs.
What is special about our promotional items for dogs?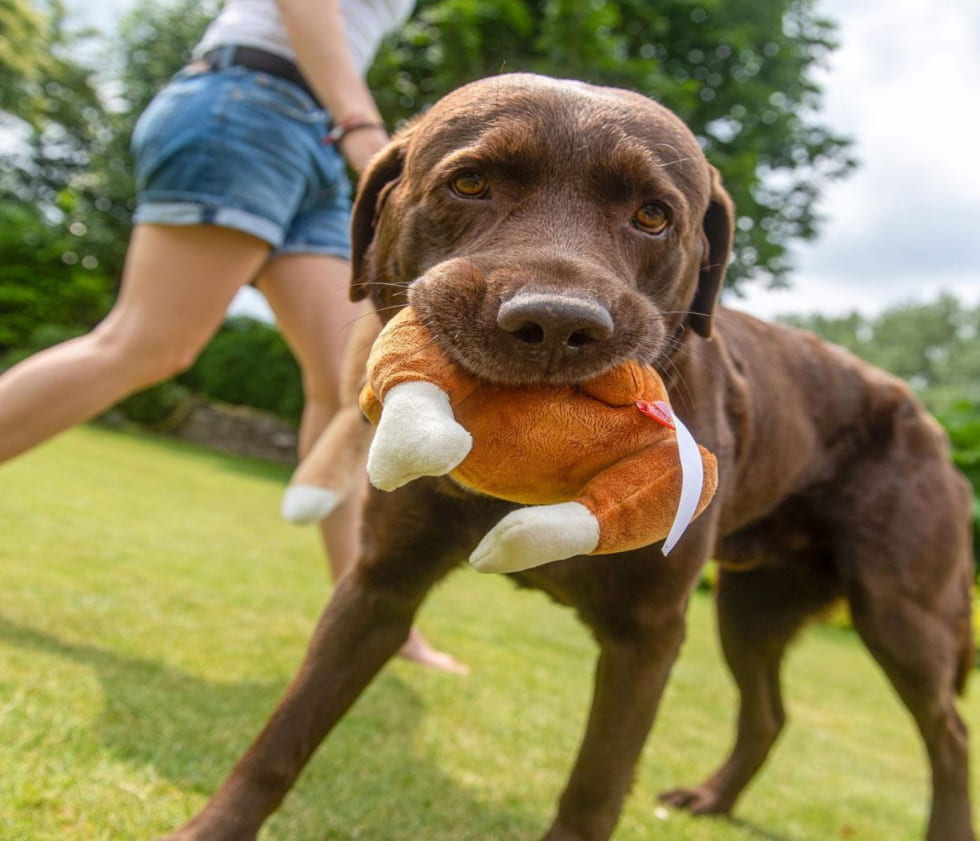 As already mentioned, they are not only extremely robust, but also harmless to the dog's health. A bit of dirt doesn't bother the toy either, because it can be washed at 30 degrees.The mbw® product range offers a variety of variations. For example, the range includes knot toys that are particularly suitable for chewing and tugging. The printable toy chicken has an exciting crackle function that increases the hunting instinct. Then there are throwing toys like the Flying Disc, which get the dog running and really work out. Of course, a combination of crackle, knot and sound toys is also possible. These promotional items for dogs will give long lasting pleasure.

We are very proud to offer promotional items with logo for dogs and pets, as we know how important well-placed advertising is. With the large number of dog owners, printable toys are very lucrative for many companies and also mean a long-lasting business relationship with your partners and customers.

We at mbw® have been asking ourselves for a long time why promotional items for dogs or pets are so rarely used as advertising space by companies. The market is open and diverse. We are also thinking of insurance companies that can distribute the dog toy to their customers when they sign a contract. At pet fairs, the ideal give-away to be remembered and to attract new customers. Why many companies have not yet discovered this potential for themselves, we do not know. We only know that the companies that have promotional items for dogs and pets printed by us have been able to gain a large number of new customers. So what are you waiting for? Contact us, we're here to help and order your dog owner promotional gifts today.


Who can benefit from dog toys as promotional products?


Insurance companies
Hotels and resorts
Dog schools
veterinarian
Resellers such as pet supply stores
Supermarkets
Feed stores
and many more
An advertising medium with a lot of potential
For you as a retailer or commercial customer, the quality of the promotional items for dogs should of course also play a major role. Since July 2012, mbw® has had a personal quality management department. This division is exclusively responsible for product monitoring, compliance with guidelines and process optimisation within the company. So you can see that you are in good hands with us.

But not only quality plays a major role. Customers who receive promotional items for dogs and pets as a gift associate your company positively. Then there is the haptic character. The printable promotional gift for dog owners is often touched and looked at. If the dog loves it, you have done everything right.

With the toy, you can specifically address your desired target group, namely dog owners or those who want to become dog owners. The promotional items for dogs are especially ideal as an initial gift, because it is always associated with the purchase of the furry nose.

So you see, our dog and pet promotional items are always the best alternative to traditional promotional letters or promotional emails. These media are quickly thrown away or deleted. Printable toys for dogs, on the other hand, are remembered for a very long time.
The printing options
Both the front and the back advertising flag can be printed as a rectangle with the dimensions 50x10mm (WxH). Printing is possible via pad or direct transfer printing. The Flying Triple can also be printed on the front and back. This is done by direct transfer printing.


What does this mean for you?
Pad printing is a gravure printing process. The ink is transferred to the material via a pad which is pressed onto the printed material. In this way, two-dimensional motifs are printed on three-dimensional objects.

Direct transfer printing offers a rich and radiant print. Even smaller print runs such as advertising flags can be printed with lettering, photos or motifs. The motif is first printed onto a carrier foil. The carrier foil allows easy positioning of the motif.

Printable promotional items in the form of dog toys are always a good idea to inspire people and animals alike. You can also get a bright yellow high-visibility Dog safety vest from us so that Wuffi is always seen well. You can also have the high-visibility waistcoat printed with your brand or logo. Direct transfer printing is possible on the back of the waistcoat. Be creative with your promotional gifts for dog owners.
Overview of our dog toys

Of course, you are now rightly wondering what promotional items for dogs and pets we have in our range. As they say, the best always comes at the end, so now a small listing about our toys for dogs as well as the accessories. We hope you enjoy browsing.


Promotional items for dogs with logo are always a great product to inspire four-legged friends, owners and customers alike. Get the perfect promotional gift for dog owners too. We are looking forward to your inquiry/order.