High-quality and certified cuddly toy with logo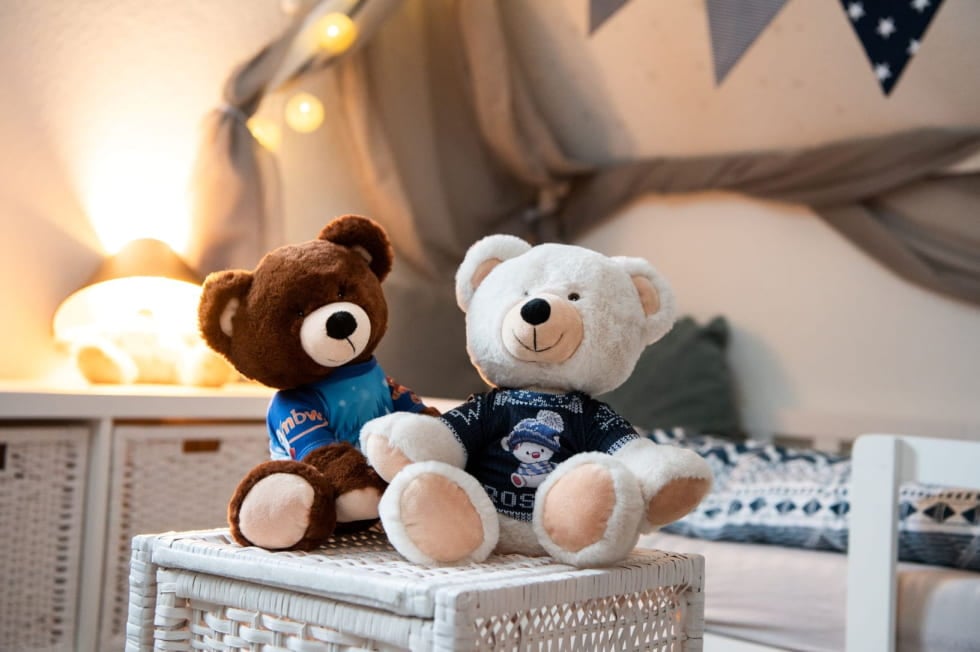 Convincing people to buy promotional gifts is sometimes not so easy. Cheap lighters or puny biros are available in abundance. We at mbw® don't even want to start with that. Our cuddly toy with logo makes the difference here. The high-quality workmanship and plush fur make not only children feel good. They can be cuddled, snuggled or hugged. A new little friend made of plush. The cuddly toy with logo is available in many designs, colours and shapes. Your unique advertising messages, your logo or even the company name can be printed on a doming (plastic chip), on the advertising flag or on the matching clothing, depending on the cuddly toy.

In addition, the cuddly toy with logo, depending on your wishes and campaign, appeals not only to the little ones but also to the very big ones. The little plushies are not only available as teddy bears, but also in the shape of a monkey, a chick, a giraffe or a hedgehog. The list is almost infinitely expandable. So we have something for every taste. Cuddly toy with logo as a take-away item at trade fairs, for banks and insurance companies or, of course, for crafts. Whatever you decide, your cuddly toy will always bring a smile to the face of the recipient.

Children love to play with soft, fluffy and cute cuddly toys. If the cuddly toy with logo is then also printed with the logo of their favourite team, brand or character, the toy becomes a special and personal gift that they will love.

But a cuddly toy with a logo can also be a great thing for adults. It can evoke sweet memories of your childhood.

Another advantage of cuddly toys with logo is that they are made from high-quality materials at mbw®. This means that they are not only soft and cuddly, but also durable and easy to clean.

Overall, a logo cuddly toy is a great choice for kids and adults alike. It's a sweet and personal gift that can serve as a keepsake or favourite plushie A gift with heart.
Printing a cuddly toy with a logo: A classic with advertising potential
Why a soft toy as a promotional gift?

Soft toys with logo or text are emotional advertising media for events, trade fairs, festivals and everyday life. Everyone knows soft toys as giveaways from the children's room. But you will be surprised how versatile these little animals are. Thanks to their high quality, they are also sustainable. A cuddly toy that not only the own child plays with, but later perhaps also the grandchildren or great-grandchildren, is more than effective and for the advertising company a great building block to remain in the head for years. We pay attention to excellent quality and especially to the safety of the cuddly toys as promotional items with logo. If you have the cuddly toy printed, you additionally strengthen the advertising effect.

Our cuddly products are GS-certified by TÜV Rheinland and Hermes Hansecontrol. Our sustainable promotional products also include teddy bears, wash animals and soft toys as brand ambassadors with the Toy Proof mark. Of course, our sustainable advertising in the children's room is also OEKO-TEX STANDARD 100 tested and the cuddly toys are free of harmful substances.

High-quality soft toys as promotional items are primarily aimed at children and teenagers. They are therefore used in kindergartens, schools and similar institutions. The advertising company can be, for example, a toy shop, a manufacturer of school materials, an insurance company, the police, fire brigade or other companies and institutions.


Why print a cuddly toy with logo for pupils?

With cuddly toys, even very young children learn how to deal with values and cherished objects. A well-intentioned gift like a cuddly toy also makes for big eyes among friends. True to the motto: I'd like to have that too. A cuddly toy printed with a logo is always there, especially for the very young. Whether at school, on a trip, on holiday or at the sports club. The teddy is always and everywhere well seen and the clever advertising application on doming or advertising flags can anchor itself positively with the children. Of course, matching clothing such as Jeans overall or a jeans jacket can also be branded with the company's logo.

The positive anchoring also takes place with the parents, of course. Small promotional gifts from insurance companies, banks or as giveaways at trade fairs. The strategy here is relatively simple. You inspire the children with a cuddly toy with a logo in order to reach the parents in this way.

Even kindergarten children are happy about the cute companions. By having the cuddly toys printed, you create a playful and good bond with the company. With lovingly designed soft toys as advertising material, you show your customers a very special appreciation and stand out from the competition.

With today's sensory overload, our special plush advertising media offer a welcome change. While you are annoyed by constant advertising by post or e-mail every day, a cuddly toy with logo can easily score points with the recipient. Advertising cuddly toys look cute and are sometimes not directly recognisable as advertising media.


An asset for many areas

Qualitative promotional gifts for children are also a good idea in the medical field (doctor, pharmacy).
The first visits to the doctor are usually not that pleasant for children. A shot, reflex tests or later the first hole in the tooth. For doctors, it is immensely important not to have the child as an enemy, but to give the little sprout a good feeling despite possible pain. A cuddly toy with a logo is of course a real help here. This way, children quickly learn the reward principle.

But also in gastronomy and the hotel industry, as well as in banks and insurance companies, there is often customer contact with children. For example, a cuddly toy with a logo printed on it can be handed out for the first savings book or the opening of a new restaurant. In this way, the children remember the company in a positive way. Apart from that, adults are also happy about a cuddly toy with logo.

With an emotional measure, you achieve a long-lasting advertising effect. By printing a high-quality cuddly toy with a logo, you anchor your company positively in the customer's memory. They are therefore highly valued by the recipient, are often picked up again and given a lot of attention.
Cuddly toys in many variations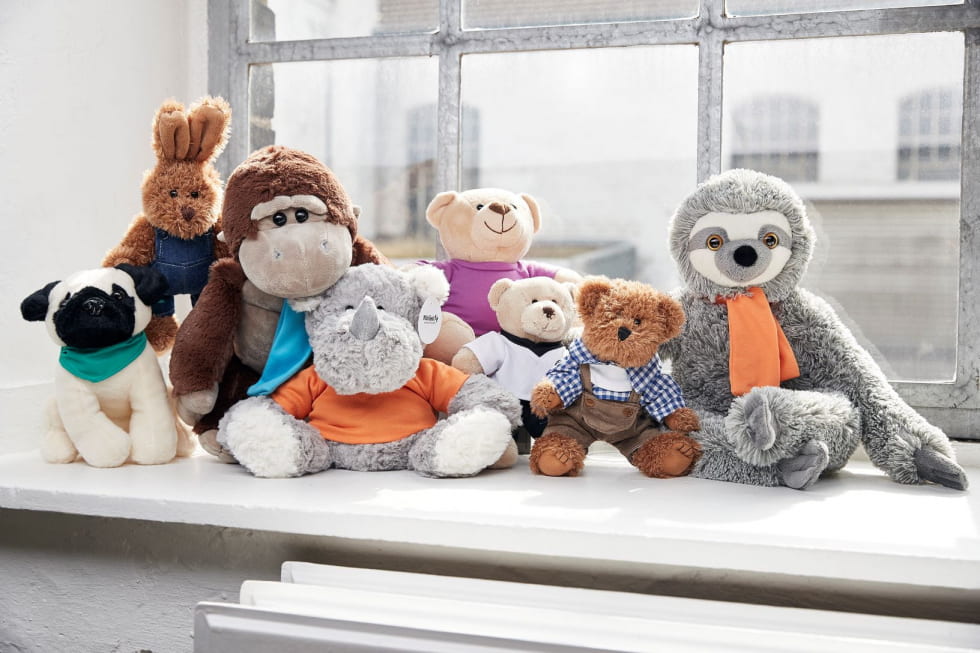 You can have a cuddly toy printed with your logo in our range. The range of soft toys as gifts leaves hardly any wishes unfulfilled. Our products not only represent your company, but also convey a personal message, for example when used in hospitals. Some examples of our promotional animals or cuddly toys with the possibility of refinement:



and much more. So you can see that having a cuddly toy printed is not that difficult. Of course, the teddy effect is the most popular, but you shouldn't limit yourself to just that. In our assortment you will also find high-quality
cuddly blanket
with logo. One of our highlights are cute covers for
heat cushions
with logo print. If you want to print sustainable cuddly toys even more special, we recommend custom-made products, because you can design promotional products such as soft toys yourself with us.
What kind of advertising print is possible?
To what extent can the cuddly toys be branded? In addition to a cuddly toy with logo, you can also find printable fashion and accessories for cuddly toys such as: T-shirts, triangle scarves and scarves. The portfolio is rounded off by special outfits on the themes of Oktoberfest, Christmas, sport and activities, medicine and health, jeans, high-visibility waistcoat, tie and bathrobe. A very special eye-catcher is our stuffed animal superhero with printable fashion such as blindfold and cape. Such a teddy with print is an eye-catcher for young and old.

Individually designed promotional soft toys with 4c logo always present your company positively and prominently. We put your company logo on the clothes of your cuddly toy. The logo is applied by screen printing, direct transfer, transfer printing or digital printing. We also have two very special options for logo application. By sewing on domings and by pad printing the logo on the advertising flag.

You have a logo in the shape of an animal and are looking for sustainable cuddly toys as an individual mascot? With our innovative manufacturing methods, we are a manufacturer of corporate mascots made to measure or to your specifications. We manufacture promotional cuddly toys in corporate colours. We also offer promotional plush custom made in shape, colour and design. How about a blue and white teddy as a cuddly toy for the Oktoberfest, for example? Or have the teddy accessories printed with a seasonal message/appropriate motifs. Of course, teddy bear printing is not the only option.

If you are looking for an inexpensive cuddly toy with logo print, a plush teddy bear with advertising flag is a good option. This way you get a quickly deliverable soft toy with customer logo. Individual promotional flags with customer logos are not only inexpensive, but also stand out. Cuddly toys with logo printing for banks and insurance companies can also be realised in other ways. How about a cuddly toy with logo with special advertising? Our cuddly and soft toys as promotional gifts with doming in 4c print leave nothing to be desired. This way, your company name stands out particularly well and you decide yourself where your mascot is equipped with a logo when printing on the teddy.
Cuddly toys - promotional items as mascots for clubs.
Sustainable cuddly toys with logos as promotional items for children and adults are very popular. Individually designed mascots occupy a very special place. The classic application is certainly the club mascot as a cuddly toy, the perfect bedroom accessory for fans. For clubs, a cuddly toy with a logo means a great image boost and promotes awareness of the club. Of course, the financial incentive for the club also plays a role.

A cuddly toy with a logo printed on it, which is bought for €7 and sold in the fan shop for €15, for example, flushes good money into the club's coffers. This applies to both large and small clubs. If the club's logo then becomes nationally known, all the better. Of course, children are also introduced to the club through the skilful use of advertising material and thus experience a "we-feeling". Who wouldn't like to have a teddy bear in their club jersey? Whether football, handball, ice hockey or basketball, there are no limits to your wishes. Printing a cuddly toy with a logo is of course also interesting for sponsors. The company brand can be printed on the soft toy's clothing or on the advertising banner and will be seen and noticed by many people.

But not only teddy bears with club emblems are always popular. In addition to the cuddly toy with logo, you will find various other options here. A custom-made cuddly toy in corporate CI is also suitable as a mascot with which employees and customers like to identify. We manufacture soft toys as promotional items to match the company and corporate identity. It doesn't matter whether it's a small stuffed animal as a key chains, a cuddly toy promotional item for the car or a life-size cuddly toy for events.

We are happy to offer you a personal cuddly toy with logo consultation. In addition to stuffed animals made to specifications, it is also possible to equip animals with football shirts from our extensive range. In this way, a teddy with a football jersey can be produced at a reasonable price. It doesn't matter whether you are looking for a teddy for the sports club or a teddy for the football club. Of course, you can also use all other cuddly toys for football clubs and sports clubs from our range. Stuffed animals for basketball clubs, soft toys as advertising media for handball clubs and mascots for ice hockey clubs also enjoy particular popularity.
Particularly popular stuffed animals for promotional purposes
Especially popular stuffed animals for promotional purposes are dogs with logo. The dog is man's faithful companion and enjoys a great likeability value in general, as well as within promotional soft toys. That's why a cuddly toy with logo is a welcome stuffed animal gift. But of course it goes even higher on the popularity scale of the cuddly everyday companions.

The promotional teddy with logo is by far the best-known and probably most sought-after plush advertising medium. Lovingly and individually designed teddy bears can easily conquer a place in the heart of the recipient. No matter whether your teddy comes with a promotional flag or a printed T-shirt, you will please your customers and be remembered by a cuddly toy for holidays. Other occasions to give away are, for example, cuddly toys for Valentine's Day. Soft toys as promotional items also cut a great figure on anniversaries or wedding anniversaries. A soft toy is also a great promotional item for an anniversary or a company party.
Our RecycleBears for more sustainability
We at mbw® love the environment and therefore naturally also offer sustainable products. With our RecycleBear®, which is made from 100% PET bottles, we have set the course for a better future. There are still no additional plastic parts used, eyes and nose are embroidered. Our recycled products have all been awarded the climate-neutral product certificate.

Of course, the RecycelBären® can also be decorated with your advertising on the doming, the advertising flag or on the matching clothing. But the sustainability of mbw® does not end here. To match the cuddly toy with logo, we also offer sustainable T-shirts or triangular scarfs for the soft toys.

These little accessories are made from recycled marine plastic, a high-tech yarn (Seaqual® Yarn) from marine waste. The shirts for the cuddly toy with logo are available in all-over print. In contrast to other printing methods, the all-over print process allows motifs to be printed from seam to seam. There are virtually no limits to the choice of motif. For you as a company, sustainable promotional products have many advantages. Many people now live much more consciously and literally crave sustainability. As a company, a recycled cuddly toy with logo print is of course worth its weight in gold and can be marketed perfectly.