Everyone particularly likes to remember moments or situations that bring a smile to the face and make hearts beat faster.

It' s often the little things in life that are responsible for precisely these moments, such as the gift for a birth, the inauguration of one's own home or the special attention for a wedding:


- over 30 new products and new characters
- a completely new range to reach new target groups
- creative customisation options
- sustainable materials
Colourful, soft and cuddly and full of good vibes - these are the unique articles of the quality brands MiniFeet®, Schnabels®, Squeezies® and Mr. Bert®. These likeable gifts and promotion products are a great way to put people in a good mood in craft businesses, offices and medical practices as well as at trade fairs, company events and at the point of sale. Your messages will go straight from the heart to the head. A successful marketing tool couldn't be any cuddlier.
Our promotional and gift items will once again take all hearts by storm with ease and joy in 2022!
Likeable, original, sustainable - our novelties:
A new range for new target groups:
mbw®– We make you feel!

For more than 40 years, mbw® has been with great enthusiasm for the lovely little things that have a big impact on the recipients. The values of transparency, reliability and honesty are firmly anchored in the family business. No compromises are made when it comes to quality, because gift and toy products should remain in good memory for a long time.

Everyone particularly likes to remember moments or situations that bring a smile to the face and make hearts beat faster. It' s often the little things in life that are responsible for precisely these moments, such as the gift for a birth, the inauguration of one's own home or the special attention for a wedding. The joyful and original collections from mbw® provide plenty of such moments and remain in the memory for a long time. They take all hearts by storm with ease!

Sustainability through innovative materials: We are aware that every action has an impact on our life and to take care is more important than ever. The products of mbw® stand for joy of life. That is why the topic of sustainability is an important part of the company. The number of articles made from natural or recycled materials is constantly growing and is very popular thanks to the sustainable material and the loving design. The popular MiniFeet® RecycelBears are getting another addition. The super-soft RecycelBears are now also available in brown as the RecycelBear Nature and have been joined by the RecycelRabbits . These cute cuddly animals have already experienced a lot in their lives, because they were made from 100% used, recycled PET bottles. The eyes and noses of these cuddly toys are embroidered. Thus, no additional plastic parts are used and the products themselves are also recyclable after a long cuddly life.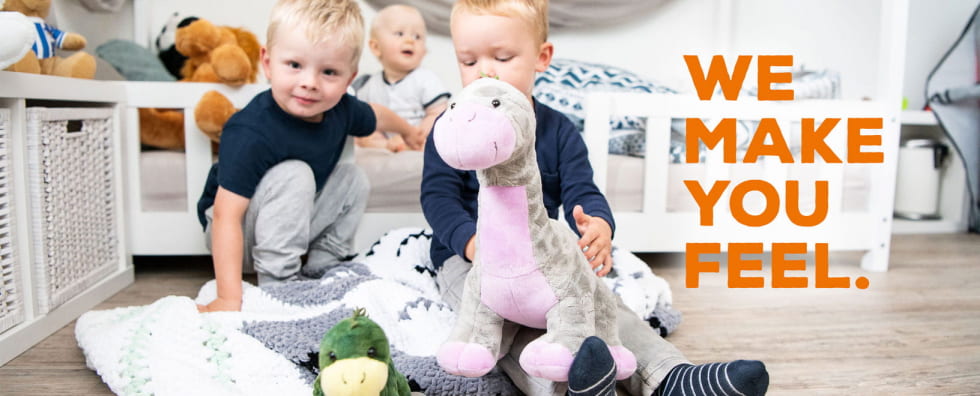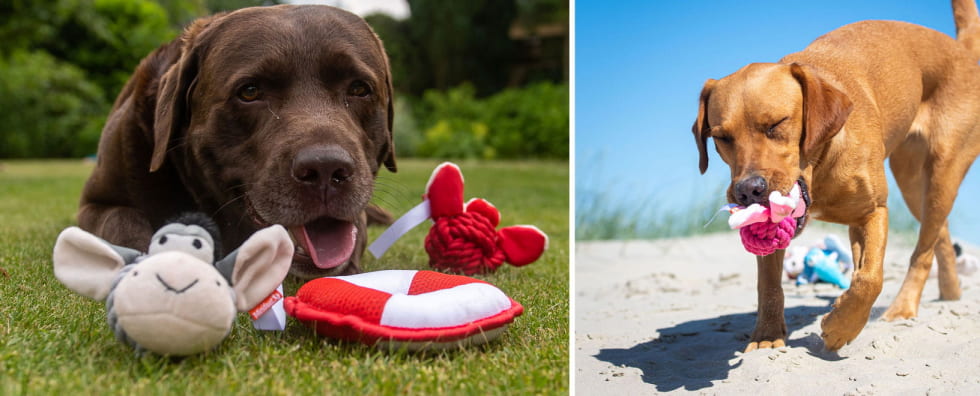 In the new year, mbw® is expanding its collection with a whole new range: dog toys. The dog is considered as the best friend of humans. Whether a clumsy little puppy or an adult dog - the play instinct of dogs is optimally stimulated by the new product range. All articles were developed under high safety standards and with the needs of the beloved pets in mind. The result is a collection of robust toys. You will find articles for romping, exercising, and learning, but also for cuddling after endurance training. These dog toys are eye-catching giveaways for all dog owners.

- The flying toys provide lots of action on land, water or in the air and guarantee lots of fun for dog and master. Eye-catching colours make them easy to find again. The mix of resistant fabric types, which are additionally reinforced with felt, creates a durable throwing and water toy for dogs. The advertising is printed either on the advertising flag or on the close-meshed, light-coloured surfaces.

- With their robust material, the fun knotted animals are suitable for long-lasting fun and incidentally improve the dogs' dental health.

- The Owl, Ghost or Monster dog toys stimulate the play instinct of big and small dogs. The cheeky toys each have a rope knot that wakes up the dogs' natural instincts. In combination with the integrated crackle function, it is an ideal toy.

- Of course, sustainability is also an important topic in the new mbw® range. The dog toys include items made from 100% used and recycled PET bottles. Their elongated shape encourages play.
Climate neutrality by offsetting CO2 emissions: To compensate the existing, unavoidable emissions, mbw® has been working with natureOffice since summer 2021: Using a calculation tool, the CO2 emission of each individual product can be calculated and compensated through certified carbon offset projects. This means that every customer can purchase mbw® products (printed with logo or unprinted) in a climate-neutral way. Compensation is a good and target-oriented solution if it is not possible to avoid emissions completely.

MiniFeet® has also grown, of course. Big and small dino fans love the cuddly soft fur of Dino Tino. The little giant is just the right companion for time travel and other adventures. This cute little guy makes for a lot of fun as a sweet gift item or promotional gift.

New Schmoozies® from the MiniFeet® series provide the digital look through again. These special items combine the impossible: a funny look and real practicality. With their bottom side made of microfibre, they act as display cleaners for clean displays. The Schmoozies® are very popular with their design and usability. That's why mbw® has added the Eierlegende Wollmilchsau, anchor, cloverleaf, toadstool, crocodile and snowman as newcomers to the successful series.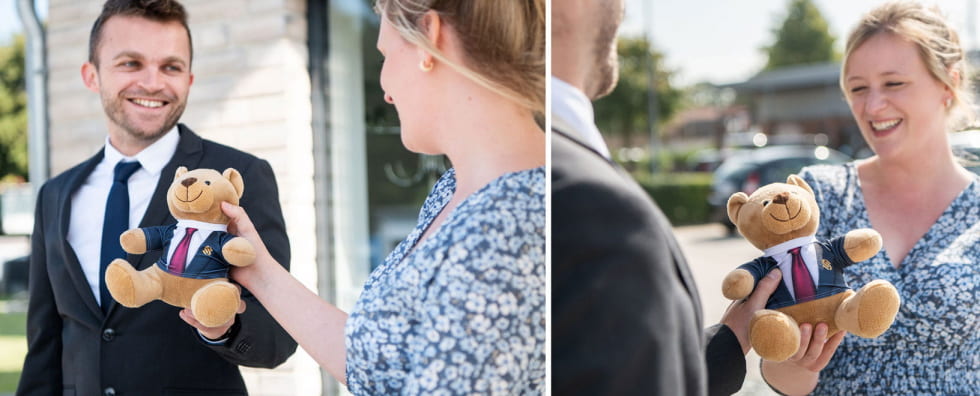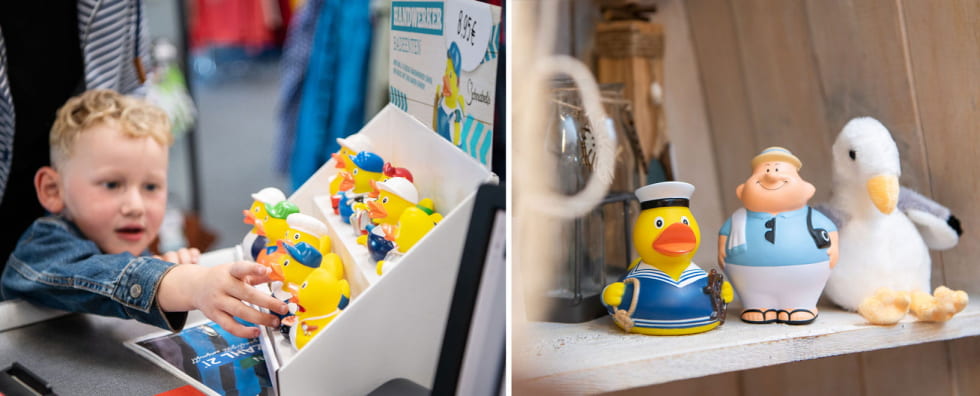 He is the king of the anti-stress articles, guaranteed: The cult Squeezies® Mr Bert®. Full of charm, he puts you in a good mood and lowers your stress level. In the new year, he comes in full royal robes: Stressful government business? Mondays? Low energy? High stress level? Simply squeeze Squeezies® King Bert® and get a fresh start. Furthermore, from 2022 he will also be available as a technically equipped Smart Bert®, BBQ Bert® with grill or Vacationist Bert® in a holiday outfit. Berta® slips into her well-deserved hero's robe in the new year and is on the road as Super Berta®.

It already exists in various designs and variations: The amusing Schnabels® squeaky duck. In the new year, it is getting a new addition and will make the hearts of its large fan community beat faster. The squeaky duck car wash in blue overalls with a cheeky cap and scrubbing brush as a customer bonus, gift item or collector's item will make faces light up.

All mbw® products are of the highest quality, have been intensively tested and checked and thus ensure long-lasting pleasure.

All products can of course be customized with a company logo or slogan.