With our products, your customers and customer relationships flourish!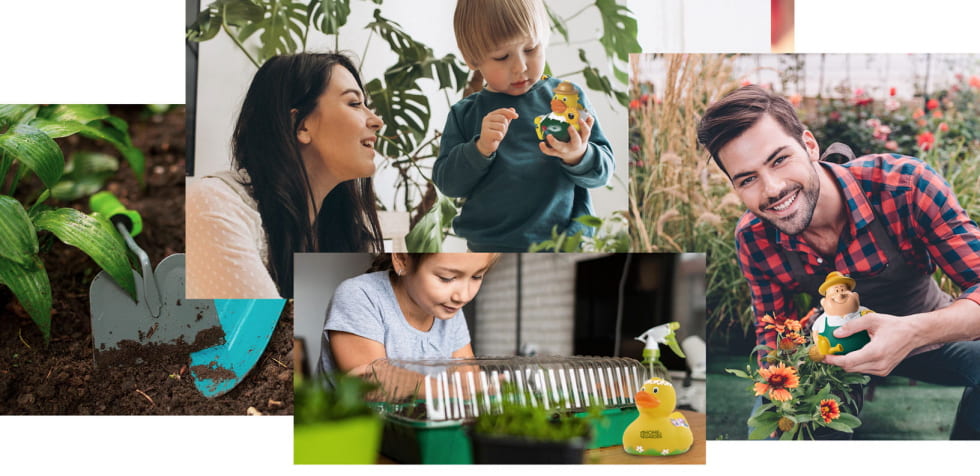 Good to have you here! In addition to all the info and possible uses for our Garden & more products, you'll find everything you need to expand your range with our original products.

Dealing with earth, fresh greenery and colourful little plants grounds you and is a perfect, meditative distraction. Gardening conveys a feeling of security, peace, balance and new life. No wonder, then, that gift and promotional items from the gardening sector have already become firmly established.


The number of hobby gardeners is growing!

Our original products can do more than just convey advertising messages: Their high likeability values make them ideal as a new accessory in your range, for example. It also fits perfectly in a gift set. The presentee will be amazed!

See for yourself: We have developed attractive starter packages for you at a special price - so you can try out and get to know us and our products easily and without risk.


If you have any questions, please contact our customer service team.

Our starter packages for you:
Choose your registration method to order our starter packages at your exclusive conditions!

Received an invitation by e-mail?
If you have received an invitation email from us, please go directly via the individual link contained therein.
or

Haven't received an invitation yet?
We offer starter packages with special conditions to business customers. Please send us an email to
[email protected]
Request access by mail
or

Already a mbw customer?
If you already have an account, you can log in as usual to see your conditions.
Log in now
Only the best!

Do not worry when you give our products. We do not compromise on the quality of our products. As a northern German family business, we have been standing for the highest standards of safety, quality, material and processing since 1980. It goes of course that all products meet the legal requirements and in many cases exceed them.

We make quality measurable and test numerous products intensively by renowned test institutes in Germany.

Unbeatable as a promotional item!
Why should you still rely on haptic promotional gifts in times of tight budgets and ever-growing digitalisation?

Because they work!

Values and appreciation can still be conveyed most strongly through personal gestures and small gifts. Haptics play a major role in this. We understand things that we touch. Touch facilitates the storage of information and creates closeness. Ideal prerequisites for the successful positioning of your company.

So it's high time to focus on haptic advertising media. Expand your product range with original gift items on trendy themes and make your customers, employees or partners' eyes sparkle.

Get in touch with us, we will help you!

Benefit from our Europe-wide dealer network for larger and individualised quantities, which enables us to support your projects locally.



Possible examples for the use of our products: