Your cuddly toy clothing and fashion for cuddly toys with logo - always an eye-catcher
Accessories for cuddly toys
At mbw® you will find cuddly toy clothing and fashion for cuddly toys that you can have printed individually with your logo, your brand or in your company colours to match your corporate design. The logo is usually applied to the fashion for cuddly toys in 4c (print in CMYK colour space). The cuddly toy clothing with logo application is designed according to your wishes using tampon printing, direct transfer, screen printing and doming. It goes without saying that a high-quality finish is essential. Convince yourself of our certified products.

Our printable accessories or fashion for cuddly toys are a special eye-catcher and are sure to make you stand out from the crowd. Dress your mascot with triangle scarves, trousers, bathrobes, scarves and a host of other fashion for cuddly toys that can be printed to attract maximum attention. We offer our cuddly toy scarves in 13 colours and two sizes. For the triangular scarves you can choose between 7 colours and three sizes.

For the dark season, we offer high-visibility waistcoats for stuffed animals in neon yellow. Would you prefer something more serious or unusual? No problem, you can get cuddly toy clothes such as ties, caps or Oktoberfest leather pants with a checked shirt. Of course, our accessories can be combined with many models from our outfit range. Our special accessories with logo also include our mini-T-shirts, with which you will always be present with your customers. Your cuddly toy clothing with logo will be a real eye-catcher for young and old.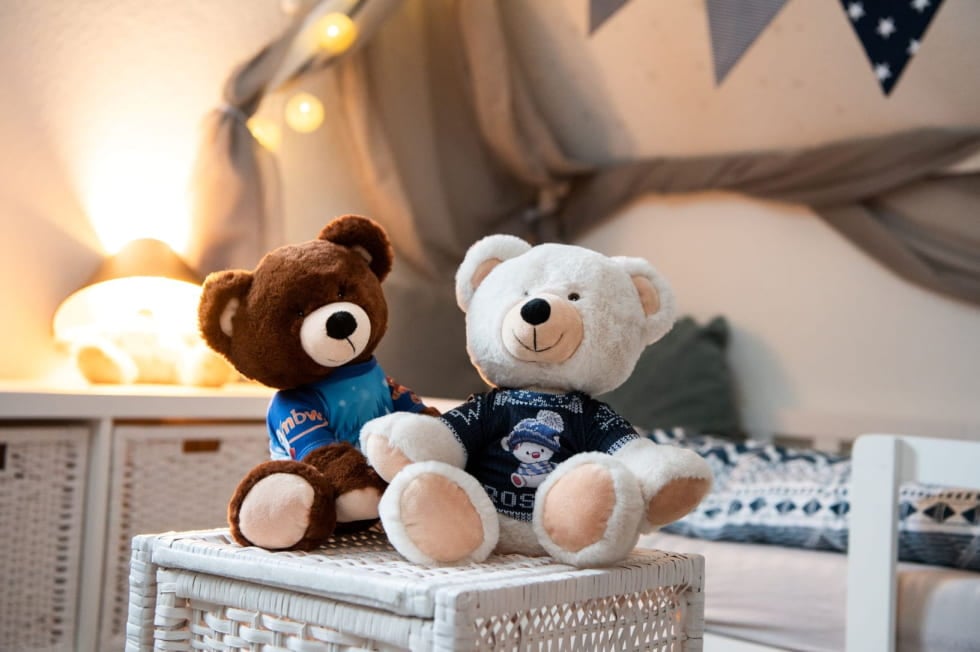 Printable clothing for cuddly toys with logo
As a specialist in printable cuddly toy clothing with logo, we are particularly pleased to be able to present you our fashion for MiniFeet®. The classic fashion for soft toys includes T-shirts and jeans or jeans skirts. Present your company emotionally through a stuffed animal with T-shirts in 12 colours and 5 sizes. With our haptic sympathy carriers you will be positively remembered. Your customers can identify better with a football kit than with T-shirts? No problem! Our soccer outfits for stuffed animals leave nothing to be desired: Individually designed sweatshirts, work coats, Oktoberfest dirndls or mini shirts with wings. Fashion for cuddly toys that goes down well and offers you a wide range of advertising options.
A large selection for you
Our cuddly toy clothing is characterised by a special variety and prominent advertising options. Soft toy clothing for special occasions and themes makes our haptic advertising media the ideal gift for your customer event. Our special highlights of fashion for cuddly toys include Oktoberfest outfits, Christmas accessories such as caps or Christmas shirts. Cuddly animals in hospital outfits such as nurse dress or operating theatre clothes, superheroes and the stuffed animal bathrobe. Nowadays, the Oktoberfest in particular offers a good opportunity to organise a customer event nationwide. Our cuddly toys with Bavarian dress or lederhosen are of course ideal for positively anchoring your company in the memory of your customers.

Christmas is also an ideal occasion in any industry to increase customer loyalty through sympathetic attention. For this purpose, we offer shirts, Christmas hats or angel wings printed with a logo. But if you don't have a suitable promotional occasion, you can advertise sustainably all year round with our cuddly toy superheroes. For our plushies we offer blindfolds and capes with logo.

A real classic among promotional cuddly toys are individual mascots for clubs and sporting events. The most popular sports outfit is the soccer shirt for cuddly toys. Finished with your logo, your fashion for cuddly toys will stay on the ball even beyond the season.

Just want to say thank you? We also offer small T-shirts with sweet hearts or imprints with "Thank you", "Merci" and much more. Our comforters, encouragers or day brighteners link positive emotions with your company. Cuddly toy clothing with logo knows how to inspire and manages to become a real topic of conversation in few time. After all, who doesn't like to hear thank you or nice to be around? Packaged with a cute teddy, polar bear and co. a real eye-catcher. Your fashion for cuddly animals and your cuddly animal clothing with logo will inspire your customers and also your employees.