Anti-stress figures and antistress gifts
Simply escape from the daily routine
Our modern times are often characterised by stress and pressure to perform. The phone is ringing off the hook, the boss is always in the office and the desk is overflowing with work. But we at mbw® have the perfect solution to your problem. With our anti-stress figures or antistress gift, we have found the ideal gift for your stressed customers. Our selection is very diverse.

At mbw®, for example, you will find various animal motifs, our Bert® and Bertas® or simply other anti-stress figures or antistress gifts. This brings us to the next topic. An article that is constantly taken in the hand is an attractive promotional item with a lot of charm.
With your imagination and our know-how
You work in the insurance sector and want to present every customer with something lasting for a successful conclusion of a contract? Perfect, then you've come to the right place. Our antistress gift or our anti-stress figures will also delight your customers. With a company logo or simply with the name of your company? There are almost no limits when it comes to printing your new promotional item. You decide on the purpose and target group. If you are unsure about the ideal advertising medium, we will of course be happy to help you.

Take the anti-stress figures with you to a customer appointment. You will see that the ice will be broken quickly. antistress gifts can be the basis for a long-lasting basis of trust.

Even in the civil service things can get stressful. With the anti-stress figures or antistress gifts for public institutions and the civil service, you can ensure that your employees are in a good mood. How about the always fair Judge Bert®, for example? The likeable anti-stress figures are just as suitable for company celebrations and anniversaries or as a small token of appreciation for employees. The cuddly advertising figures with logo will present their advertising message for years to come.

Also a possibility for tour operators or as give-aways at trade fairs. Even fire fighters or sports clubs can use the small but useful gifts to recruit new members. By the way, the logo mascots are not only suitable for giving away, but also excellent for the merchandising shop of your sports club.

Anti-stress figures or antistress gifts for sport & activities are the constant companion for every fan, whether at the top of the table or in the bottom. This is how you achieve the greatest benefit with little effort. The anti-stress figures or antistress gifts are made of high-quality polyurethane foam (PU foam), which always returns to its original position after being crumpled (memory foam).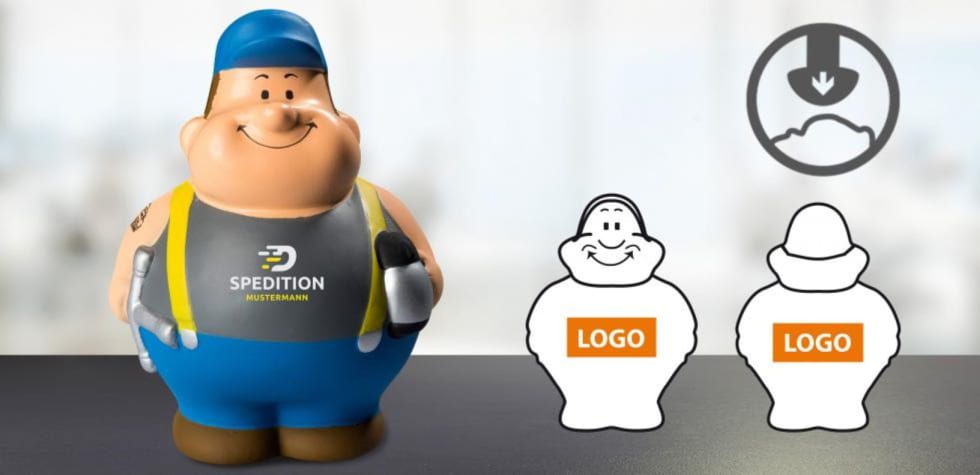 Suitable for all situations
Lasting anti-stress management is a topic for almost all professions, not only for the office. Think of a lengthy construction site, for example. What can't go wrong when building your own home? Tradesmen miss deadlines, materials are not delivered, walls are set incorrectly. That's where the anti-stress figures for construction and crafts come in handy to give you some breathing space. At the end of construction, the sympathetic figure remains with the house builder and ensures a lasting positive memory.

Individually designed anti-stress figures or antistress gifts for tourism and travel are another field of activity for these likeable promotional items. Next to a nice photo album, anti-stress merchandise as a gift is perfect for anchoring positive memories of the last holiday. And it's not just the holidaymakers themselves who will leave a smile on their faces with the "globe" anti-stress ball. Anti-stress gifts also score lasting points with friends and acquaintances. A successful design and the pleasant feel quickly arouse guests' curiosity and ensure that your message remains in their hands for a long time.

The anti-stress figures or antistress gifts are also perfect for hotels and gastronomy as well as a gift for seminars and training courses. By giving away a promotional item with long-lasting benefits, you build an emotional bond with your guests and participants that motivates them to come back. Another area of application for give-aways in tourism is city marketing. Here there are many possibilities for individual design of the nice gifts. Anti-stress figures for city marketing have a long tradition with us. Contact us at any time to find out about the best ways to use them.
A large selection for you
For you as a company, institution or public body, however, there is much more at stake. Do you want to attract attention with your individually designed promotional products to generate new customers? The promotional products anti-stress ball or anti-stress figures are just what you need.

You're probably wondering now which crumple toys you can get from us. Here is a small overview:

Bert®
Berta®
Various balls
Animal motifs
Cube
Construction helmet

and much more. You have the free choice and decide for yourself which promotional item antistress gift or anti-stress figures you take. You can order from a small quantity. Promotional items with a logo are a real eye-catcher, especially with these cute squishies. For truckers as a little lucky charm on the dashboard, especially for haulage companies a good idea. For students as a perfect aid before an exam. Whoever you want to give them to, they are sure to put a smile on your customers' faces.
Do you run a grocery or discount store yourself? Have your anti-stress figures printed individually. How about a BBQ crumpet for barbecue season, for example? Place the great product right next to your meat counter or in the checkout area for a cheap takeaway. Always just wine or flowers is boring in the long run, isn't it?

Funny anti-stress figures or antistress gifts are a real eye-catcher at any party and a wonderful gift idea. It's up to you whether you fill the stands with Craftsman Berts® or use balls or other figures. Maybe for Valentine's Day a love stand-up with hearts or for Christmas with Christmas figures. You decide what you need and we will implement it perfectly. Not only will you put a smile on your customers' faces, but you will also have a good margin left over. An absolute win-win situation for everyone.

With these great promotional items, your customers will really come up trumps at their next birthday. You can create our Bert® and Bertas® directly according to your wishes. With a big egg in his hand and bunny ears on his head? Your anti-stress figures will delight your customers. You rarely achieve this with a biro or a lighter.

Sure, both are very practical items, no doubt about it. But as soon as the pen and the lighter are broken, they end up in the rubbish. Not sustainable, is it? On top of that, the advertising company only stays in the mind of the recipient for a very short time.

This is completely different with the promotional products anti-stress ball and anti-stress figures. They can be presented on a desk, a workbench, in a child's room or decorate the office at work. Pure sustainability for many years. A promotional item with a wow effect. But don't just think about the adults, think about the children too.

An anti-stress ball promotional item in the shape of a cow or a plane is more than popular with children. Anti-stress figures like Bert® and Berta® are simply mega-fun. Provided with your own brand or lettering, a real eye-catcher and an envy product. Marco has it, buddy John wants it too. This is how fame is created, because what parent wants to deny their child a wish?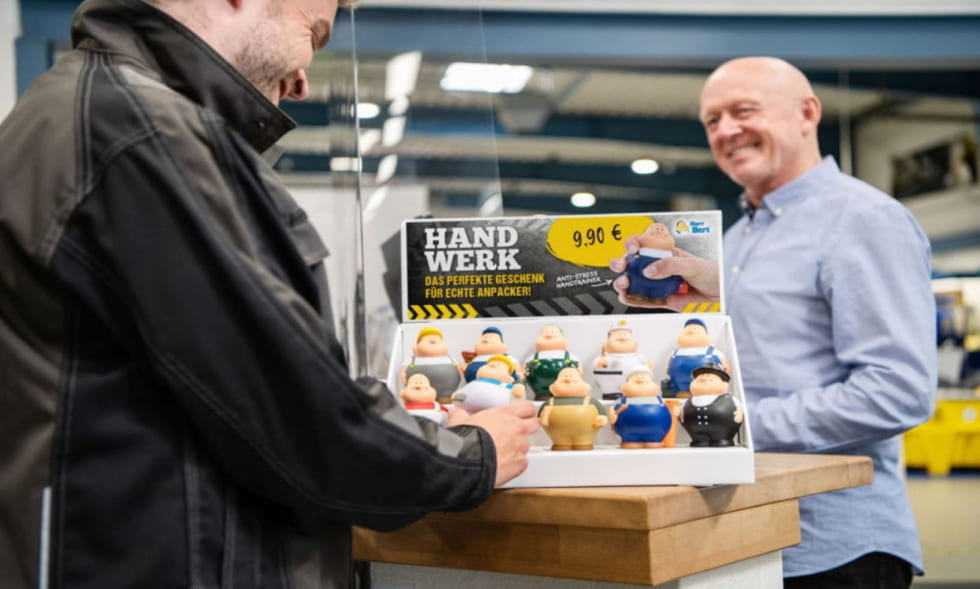 Anti-stress figures makes the difference
Perfect for the police on Blue Light Day or for the school dentist as a sweet and lasting promotional item. With this gift, you take away the children's fear and thanks to the practical crumple function, the little kids can be quickly calmed down. At the vocational school, you can also use promotional items such as antistress gift anti-stress figures to recruit new employees. You will be surprised how many students will remember you.

Last but not least, holidays are a special opportunity to use them. Whether Christmas, Easter, Mother's Day, Father's Day, Valentine's Day, German Unification Day, etc.. Anti-stress figures for public holidays offer the opportunity to bring joy several times a year. Events offer another year-round occasion to use anti-stress ball promotional items as gifts for customers. Afterwards, the event will always be remembered fondly, if you ever get the chance to have a good grip. In terms of sustainable advertising, haptic anti-stress compliments for events are promotional products with a particularly long-lasting effect.