Art.no.: M133044
Squeaky duck luminescent
High-quality squeaky duck with a fluorescent, afterglow effect.
Here are the highlights of every duck collection, in the true sense of the word: The afterglow squeaky duck makes a cheerful eye-catcher and brand ambassador for your company, night and day. The effect lasts for up to 6 hours and thus also doubles up as a small, cute night lamp next to the children's bed at home. Whether implemented as a give-away, premium gift or decoration, the manifold members of the mbw® family are simply a must-have.

Add directly suitable accessories: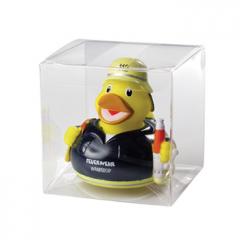 plastic box
Art.no.: M110080
Product details
Product dimensions:

length:

8.00 cm

width:

6.50 cm

height:

7.00 cm

Material:

material:

PVC

Weight: 39g
Customising Options
Note: The stated measurement units only serve as guidelines and can possibly deviate slightly. We will be pleased to discuss your customising requests with you personally.
Technique
Position
Form
Dimensions
Pad-printing

This indirect printing process based on the gravure printing principle involves blank silicon stamps (pads) being soaked with the colour image of the motif. The flexible attribute of the silicon stamp also enables the imprinting of curved surfaces in high quality. Padprinting is the most important method for imprinting plastic promotional products. It is optimal for printing one-coloured logos. For multicoloured prints, the motifs have to be checked. Patterned motifs and gradients are not possible using the pad printing method.

Chest
rectangle
width: 20mm
height: 10mm
Tail
rectangle
width: 20mm
height: 10mm
Product features
glowing Continues glowing for a while after being illuminated.

Squeaking function Produces a squeaky noise when squeezing.