Art.no.: M131280
Squeaky duck Magic with colour change
Squeaky duck color change under UV radiation for the special effect
Do you want a change? These Magic squeaky ducks change colour under the influence of UV radiation like magic. Photochromatic pigments create the desired tant! This duck also convinces with the feather look on its wings. The almost realistic model looks as if this duck is using the wings. The high-quality squeaky duck with the magical effect for a long-lasting promotional effect.

Add directly suitable accessories: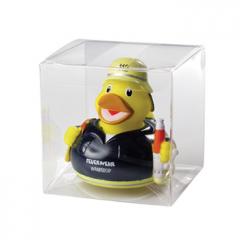 plastic box
Art.no.: M110080
Product details
Product dimensions:

length:

7.50 cm

width:

6.50 cm

height:

8.00 cm

Material:

material:

PVC

Weight: 39g
Customising Options
Note: The stated measurement units only serve as guidelines and can possibly deviate slightly. We will be pleased to discuss your customising requests with you personally.
Technique
Position
Form
Dimensions
Laser engraving

A high-quality engraving is achieved by processing the surface of the promotional product using a strong laser beam. Contrary to the mechanical engraving, the depth is hardly perceivable visually or haptically. Only one-coloured laser engravings are possible. Furthermore, numbering is possible

Chest
rectangle
width: 20mm
height: 10mm
Tail
rectangle
width: 20mm
height: 10mm
Pad-printing

This indirect printing process based on the gravure printing principle involves blank silicon stamps (pads) being soaked with the colour image of the motif. The flexible attribute of the silicon stamp also enables the imprinting of curved surfaces in high quality. Padprinting is the most important method for imprinting plastic promotional products. It is optimal for printing one-coloured logos. For multicoloured prints, the motifs have to be checked. Patterned motifs and gradients are not possible using the pad printing method.

Chest
rectangle
width: 20mm
height: 10mm
Tail
rectangle
width: 20mm
height: 10mm
Product features
colour changing with UV radiation The product changes colour when exposed to UV radiation.

Squeaking function Produces a squeaky noise when squeezing.